Interment Options
Funeral Directors can begin the interment process by filling out the interactive Interment Form below. Please email it back to: tanya.brawner@springfield.il.us or Michael.loscher@springfield.il.us.
Chapel Mausoleum
A variety of crypts and columbarium niches are available
Historic North End
Lots are still available near many of the early settlers of Springfield. The north end is rich with history and Victorian symbolism.
Upright Areas
Monuments and headstones in these areas are custom designed by the family and will speak to future generations. The monuments we help you design will create a lasting tribute to your loved one's memory.
Garden (Flush) Areas
These beautiful landscaped areas with a peaceful expanse of lawn, trees and shrubs provide a lovely park-like setting to those who choose to buy flush memorialization. Cemetery staff will help you create and design a flush marker to memorialize your loved one in this tranquil environment.
War Memorial Lawn Crypt Section
Oak Ridge Cemetery now has an area set aside for veterans, their spouses and the general public. Only a few feet from the War Memorials, this area offers all families the opportunity to pay tribute and respect to those who served in the defense forces.


Interment Costs
Note:  Prices vary based on the time of day that the service enters the cemetery gates.
Oak Ridge Cemetery Price List Effective October 1, 2019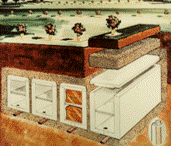 1441 Monument
Springfield, IL 62702
217.789.2340
217.789.2338 fax
email: Oak Ridge Cemetery
8:00 a.m. - 4:30 p.m. Monday - Friday
April 1st thru August 31st: 7:00 a.m. - 8:00 p.m.
September 1st thru March 31st: 7:00 a.m. - 5:30 p.m.
Services
Visitor Sites
Administration